Today we welcome Simone Butterfield of Dimples Events to share her experience of trying to source environmentally friendly stationery:
With so many of us trying to do our bit for the environment, I was hardly surprised when one of my clients expressed an interest in an invitation that was "eco-friendly".  Never did I imagine that it would pose to be such a difficult task.  The invitations that my client had seen were from an American based website; www.invitesite.com, and so with a clear picture in my head of what we were looking for, I set to work.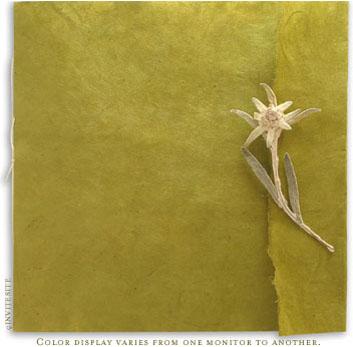 Although this invitation is not something that strikes you as a traditional wedding invite, it has this real country / rustic feel that suits perfectly the theme and design of the wedding.
I have searched relentlessly for a wedding stationery company that offer a similar design and have failed miserably!  One option I have is to source the raw materials from Daintree Papers and assemble them myself!  Fortunately the staff at Daintree Papers has been really helpful with my request and has even offered to help with printing.
The alternative options would be to use the seedling invitations range.  These can be planted after the invite has been received and flowers will grow from them, realistically though – how many guests will do this?  A large number of the guests are attending from overseas and I am not sure their climate will be suitable.
In my eyes the most eco friendly option would be to use email or SMS text messages – but it just deprives the happy couple of seeing the official invitation to their wedding.  Also, we have a member of the family that would disapprove and find it inappropriate.  Tradition goes a long way in some people's eyes.
The irony of the whole situation, is that I have resorted to ordering samples from the USA – so while ensuring the Bride has wants she wants and we use eco friendly materials, I am leaving a huge carbon footprint to ship them here?!